Advent and Signs from Heaven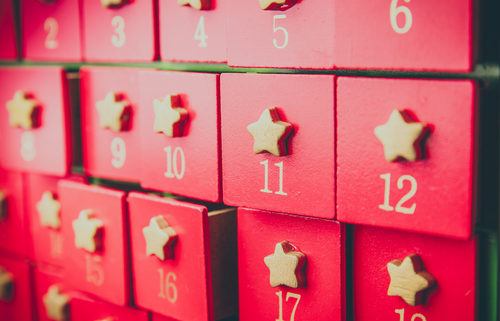 Every year at Prescott United Methodist Church, we put out an Advent devotional, a little daybook of stories written by people in the church for everyone to read.   It's the other kind of preparation for Christmas – not Black Friday, or Small Business Saturday, or Cyber Monday, or Giving Tuesday, not online shopping or trudging around the mall, not gifting and regifting and decorating and baking and either sending Christmas cards or thinking of sending Christmas cards and somehow not getting around to it (I fall into this category).  Preparation of the heart, you might say.
This year's Advent theme was a weird one: "Tear Open the Heavens and Come Down" and it must have stumped the congregation because, toward the end of November, there was an urgent call for entries. I thought about it, and I kept picturing that fourth wall in the theater – the invisible barrier that keeps performers on the stage from talking directly to the audience.
It used to be that, although God was always with his people, there was that distance. Nobody, for instance, dared to go into one secret part in the temple – God's special dwelling place, blocked by a thick curtain. Clearly, the Hebrews knew God was with them; they'd have to be pretty dense, as they wandered through the desert for 40 years, not to notice the "pillar of clouds that went before them by day to lead them on the way, and the pillar of fire by night to give them light." (Exodus 13:21). But this innermost sanctum was off limits. Trespassers would be prosecuted: think of that gruesome "face melting" scene in "Raiders of the Lost Ark," when the Nazis opened the Ark of the Covenant.
Jesus changed all that.   Right after his birth, the sky filled with "a great company of the heavenly host" (Luke 2:13) – glorious angel songs of praise, with a message that didn't get heard much in that brutal time: Peace on Earth.
The fourth wall was broken again right after Jesus was baptized (Matthew 3:16): "At that moment heaven was opened, and he saw the Spirit of God descending like a dove and alighting on him. And a voice from heaven said, "This is my Son, whom I love; with him I am well pleased." Some people thought it was thunder.
Later (Matthew 27:51), right after Jesus was crucified, there was another break in the clouds. A really big one: "At that moment the curtain of the temple was torn in two from top to bottom. The earth shook, the rocks split and the tombs broke open. The bodies of many holy people who had died were raised to life."
Maybe there are signs from heaven all the time, and we just miss them; maybe we just think it's thunder.
Once, on our farm in Virginia, the air grew very still and the sky turned bright green. I had never seen anything like it. I called the kids to come outside and see; we sat on the porch and marveled at it for about 20 minutes. We brought out some popcorn and juice boxes. It turns out that what we saw was a telltale sign of a nearby tornado: nature's way of saying, "Stop gawking and take shelter, you morons!" The sky was bright green because of all the vegetation that had just been sucked up into the air. Oops! My bad! Who knew? Apparently, a lot of people, just not me.
A few years later, right after my mom died, my dad and I were driving back from the funeral home. We had just picked out a casket and made the kind of arrangements that nobody ever wants to make. My mom had been in a coma, and although her eyelids were partly open and we could glimpse her beautiful green eyes, and although we talked to her a lot, she wasn't really awake and she never responded. It was a cloudy, cold December day, about as bleak-looking outside as we felt inside. But suddenly, this little patch of sky opened up, the sun shone through it, and – I'm not kidding – it looked like a beautiful green eye. We took comfort in it.
The green sky in Virginia was a sign that I didn't recognize. The green eye in the sky was a sign that we didn't expect.   We didn't really need it to know that Mom was with God, because, with that fourth wall broken, Jesus was right there with us. We knew. But still, it was nice.
In the Bible, Isaiah cries out: "Oh, that you would rend the heavens and come down, that the mountains would tremble before you! … Come down …and cause the nations to quake before you!"
Isaiah wanted his nation's enemies to receive a cosmic butt-kicking, from a distant and mighty God. I wonder if he would have recognized the baby in the humble stable. I wonder if I would have. Maybe the fourth wall that needs to be open is the one in my heart, so that I can see the signs that God wants me to see.
© Janet Farrar Worthington
https://janetfarrarworthington.com/wp-content/uploads/2017/11/Advent-photo-JFW-blog-e1512083782240.jpg
225
300
Janet
https://janetfarrarworthington.com/wp-content/uploads/2017/05/janet-farrar-worthington-author-logo-300x127.png
Janet
2017-12-04 10:52:59
2018-07-23 17:01:07
Advent and Signs from Heaven