Hallmark Movies: Props for the Prop!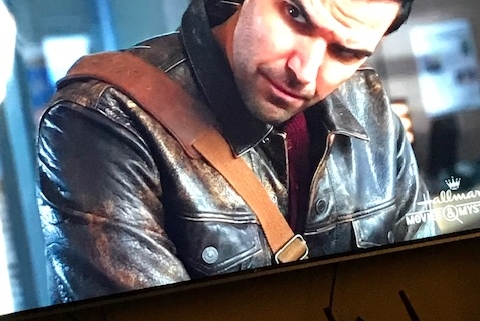 You know I love Hallmark movies.   I love both kinds – country and western, as they said at Bob's Country Bunker in "The Blues Brothers."  Or, in the case of Hallmark, the romantic comedies and the mysteries.  The dramas are good, too, but since I feel there's enough drama in the world, I prefer the lighter movies.
            Yes, I've had my little issues with Hallmark over the years.  One, the hair dye thing, which I've mentioned before.  Somebody there dyes the hair of the leading men too dark; also, the hair of some the leading ladies is too dark.  Add a highlight or two, people!  
And there's the whole Santa thing.  The Christmas movies hardly ever mention the reason for the season – the birth of Jesus Christ.  Instead, it's generally all Santa, all the time, and it's kind of creepy sometimes, like kids pray to Santa.  Something good happens, and the kid says, looking upward, "Thanks, Santa!"  Santa is the kindly, godly figure who tweaks fate to bring two people together, or, at a child's request, finds a soulmate for a single parent.
            So that creeps me out a little, but it's still pretty much fine.  I love Hallmark!
            Even the ads, for cancer medicines, medicines for people with diabetes, the Hurry Cane, Benefiber, some kind of hair removal device that looks like a pen but, if I were to bet any money on it, probably hurts to use.  But I fast-forward those ads, so really, they don't bother me.
            I love the royal movies!  I love the holiday movies!  I love the mysteries!  I truly do!
            In fact, I love them so much, that last night instead of watching the Oscars, which are political and stress me out, I watched installment two of the "Chronicle Mysteries," starring Alison Sweeney and Benjamin Ayres as her probable love interest as the series develops – although I have to say, I think there's some chemistry there with Toby Levins, who plays fireman Shawn, and who also played her brother-in-law, Bill Todd, on the "Murder, She Baked" series – because Hallmark movies, like the old Warner Brothers movies long ago, basically use the same people.  I actually really like this. It's nice to see familiar faces. Comforting and homey, in fact. So, instead of having Peter Lorre, Sydney Greenstreet, C. Aubrey Smith, Alan Hale, Sr. (not Alan Hale, Jr., aka the Skipper on "Gilligan's Island"), Claude Rains, Basil Rathbone, Eugene Pallette, or others in the Warner stable, you get – well, a bunch of Canadians!  
            Because Hallmark actors are Canadian!  
            I'm not questioning it; I just accept it.  Nay, I embrace it! Pardon my digression.
            Anyway, last night, there was an unrecognized, integral player in "The Chronicle Mysteries: The Wrong Man."  It wasn't Peter Benson, always delightful to see, although I always think of him as Arthur in the "Aurora Teagarden" movies.  (Note: I saw him in a Hallmark Christmas movie, "Christmas List," and although he was the doomed first boyfriend – in Hallmark land, the boyfriend at the beginning of the movie is a workaholic and does not get the girl – he was a darned good ice skater.  I was impressed.  Nice skating, sir!)  Nor was it another favorite, Dave Collette, who plays Bubba Rankart on the "Aurora Teagarden" series.  It was so nice to see him here as Chuck.
            No, the very important player I'm talking about was a messenger bag.
            Benjamin Ayres' character is a reporter, and somewhere, maybe in Canada, some props master thought:  Reporter. Aha!  Messenger bag!
            Also:  leather jacket!  Maybe he takes it off to shower, swim, or sleep, but we don't know.  
            Anyhoo, God bless him or her, that props master made sure that in just about every single scene, Benjamin Ayres had that messenger bag.  
            It was like "the football," or "the atomic football," the emergency satchel that accompanies the President everywhere with top-secret contents that would authorize a nuclear attack.  
            I became obsessed with the messenger bag, worn diagonally across Benjamin Ayres' shoulder.  I started texting my daughter, Blair, about it. 
            I have only one regret:  I only started photo-documenting this bag with my phone about halfway through the movie. I should have been on it sooner. Darn, darn, darn.  
            Here's the first one.  (Note: I was lying on the couch with the three dogs, so I was at a slight angle.)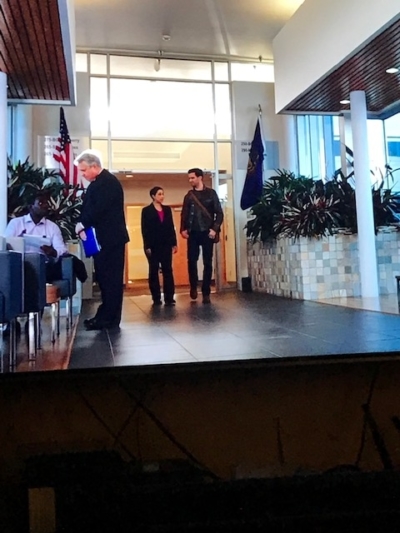 Here's my initial text to Blair, as I was gradually realizing the momentum and power of the bag.  "Drew, the reporter, wears a bag diagonally… in every scene!"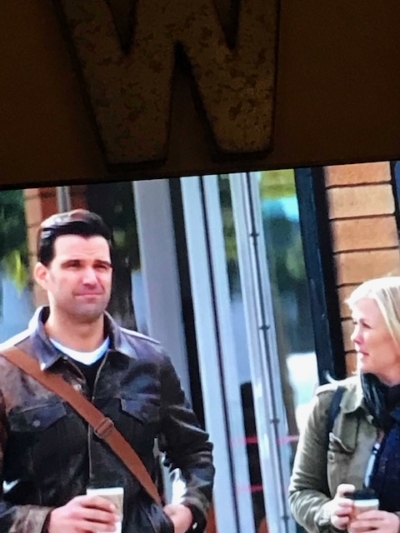 I added, "Note to self:  put on messenger bag."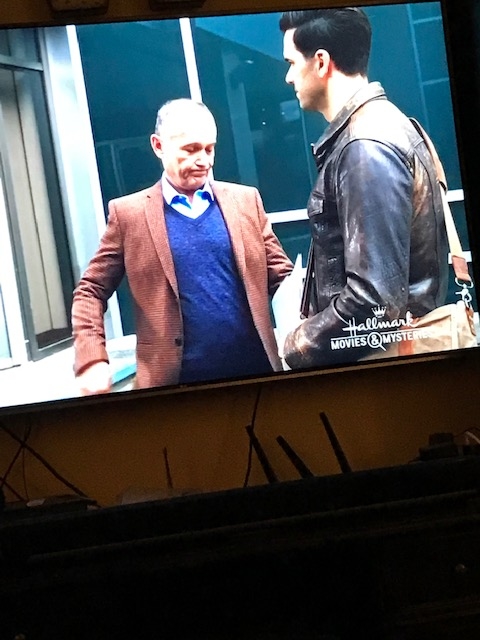 This scene prompted some reflection:  "But maybe I am completely wrong… maybe it's got his portable dialysis machine or something."  "Maybe a supplemental organ."  "Or hair product."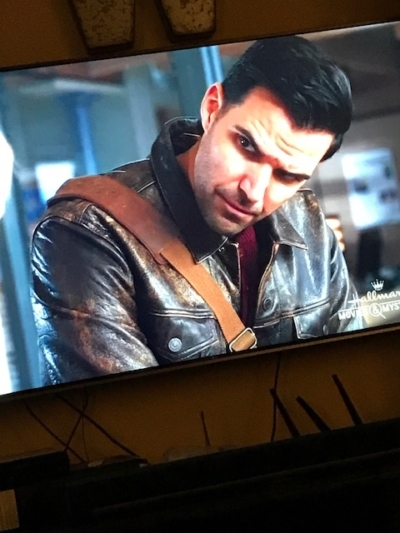 Blair said, "You could have prepared a lovely slideshow."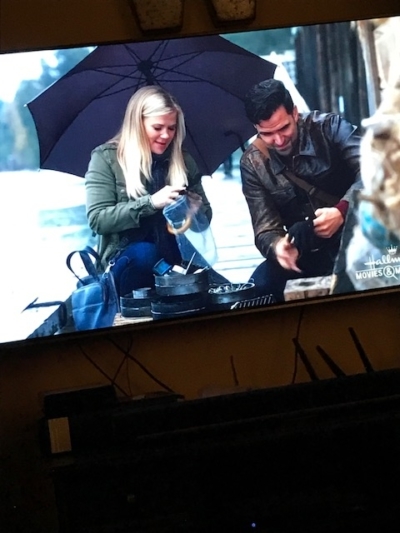 The scenes kept coming.  Thank God for Direct TV, which lets me pause the movie.  
            Blair told me not to stop documenting.  "The people need to know!"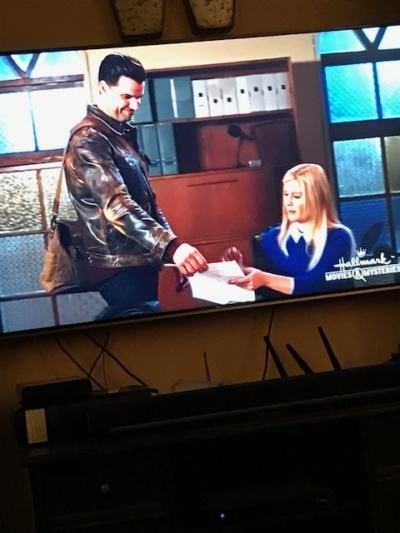 Toward the end of the movie, the action really heated up, and there was a dramatic change:  He was carrying the bag, instead of wearing it diagonally over the shoulder! What are we to make of this development?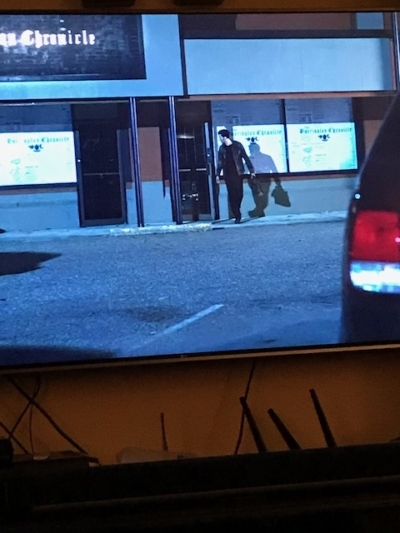 And finally, here's a shot from the movie's last scene.  Holding the bag in both hands! Is it closure?  I don't know!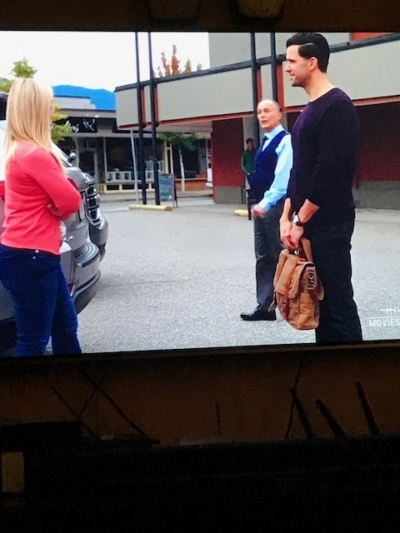 Hallmark, how you taunt me! And haunt me!
            Also, I can't allow Michael Kopsa, who plays Uncle Miles, with those piercing blue eyes, to go without a shout-out.  Another Hallmark regular, also Canadian, he has been in many of my favorite Hallmark movies, including the "Father Christmas" and "In the Vineyard" series, and he adds dignity.  
            I can only hope to see all of these old friends, and the new one – the messenger bag – in the very near future.
            Also the leather jacket!
            © Janet Farrar Worthington
https://janetfarrarworthington.com/wp-content/uploads/2019/02/IMG_2576-e1551123474924.jpg
533
400
Janet
https://janetfarrarworthington.com/wp-content/uploads/2017/05/janet-farrar-worthington-author-logo-300x127.png
Janet
2019-02-25 13:56:21
2019-02-26 10:43:21
Hallmark Movies: Props for the Prop!