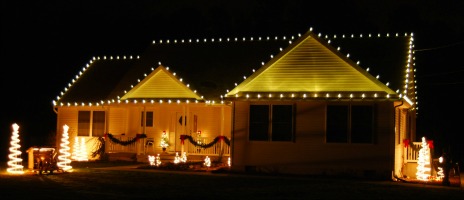 The darkest nights I've ever spent have been in a car, late at night, on a cold, lonely stretch of deserted highway.  Years ago, when my husband, Mark, was a resident at Johns Hopkins, we always spent Christmas with my family in South Carolina.  Mark didn't get much time off, so we usually left at rush hour on December 23.  We spent almost all of the trip on roads that ended in "95" – first, the Baltimore Beltway, I-695, then I-95, then the D.C. Beltway, I-495, then back on I-95 all the way down to Florence, S.C., where we cut over onto a smaller highway to get to Columbia.
I-95 runs from Maine to Florida, and it's one of those intense, stressful interstates.  If you've ever been on it, you know it can be a hellish racetrack, where you have to speed for your life just to avoid being flattened by an insane truck driver, where tailgating cars (oddly, almost always from New Jersey; no offense to New Jersey) flash their brights at you, and cars with Miami plates zip by at 90 mph, darting in and out of lanes in spaces you didn't think a car could fit. 
And then, quicker than you can say, "Where's my Zantac?" it can turn into a parking lot, where there are so many stopped cars ahead that by the time you start moving again, you don't see any sign of a wreck.  From Baltimore heading south, the traffic doesn't clear out until you get past Richmond, Virginia. 
But after that, on those long pre-Christmas drives, it wasn't too bad, and as the evening grew later, we would start hitting some stretches of road where it was just us.  No other lights but our car.  Temperature in the 20s.  Dark, cold, and lonely out there on the highway. 
But every so often, we would see houses in the distance all decorated for Christmas.  Mostly little houses, with just a string of lights, or a homemade star with a flood light aimed at it, or a solitary decorated tree.  No fancy light shows, no inflatable snowmen or Grinches, no generators keeping snow falling in plastic snow globes.  We're talking pretty humble stuff here. 

It made me so happy to see those lights.  They were isolated bright spots, beacons guiding us down the road toward my family, who always waited up.  My mom would have a pot of soup and some warm bread ready for us, and those good smells filled up the house.  The house would be decorated, all the lights on, and my dad and/or my brother might even be standing out on the front porch in their pajamas, watching for lights, too — our headlights.
I started thinking about those long, cold, mostly dark journeys when I was writing an Advent devotional for my church, and this is what I have figured out: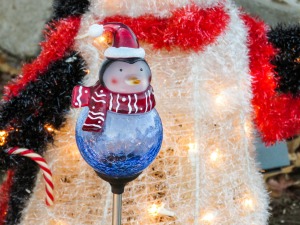 Basically, every time you hang a Christmas light outside or even turn on a porch light, you are taking a stand to the outside world against the darkness.  You are sending out a little dot of cheer, spreading a little hope, maybe boosting someone's courage just a little bit, too. 
Why do we light candles and sing "Silent Night" on Christmas Eve?  Why not just sing?  It's a perfectly good song all by itself.  Christians around the world do it because it's a visual – an "optic," as the politicians might say:  To us, the lights are visible manifestations of our hope and faith that God can change a dark and cold world.  Has changed it.  Light means hope.   In the Bible, the book of John starts off by saying of Jesus: His life is the light that shines through the darkness—and the darkness can never extinguish it. 
I don't know what you believe, but I hope you believe – because I do –that even in the darkest places, there is a glimmer of hope that can't be killed.  That where there is evil, there is still good, and you can draw strength from it.  That even if love may not conquer all, it endures, long after hate does whatever it does – turns into a hard nugget and implodes, or disintegrates, or fades away. 
So – if you want to, that is, no pressure here — light up.  Send out a little dot of cheer, and take a stand against the darkness.
© Janet Farrar Worthington
https://janetfarrarworthington.com/wp-content/uploads/2015/12/400_christmas-lights_house.jpg
200
464
Janet
https://janetfarrarworthington.com/wp-content/uploads/2017/05/janet-farrar-worthington-author-logo-300x127.png
Janet
2015-12-01 21:15:38
2015-12-01 21:15:38
Light Up!